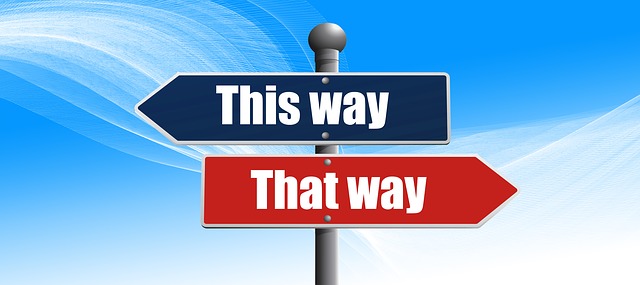 Every day each of us has options that offer us different opportunities.  For example you have the option of:
What to wear (e.g. casual or business-oriented)
What to eat (e.g. healthy or a bit unhealthy)
What to say (e.g. succinct or longwinded)
When we communicate, those same options exist and it's up to the speaker or sender of the message to present meaningful options that offer the receiver(s) various opportunities from which they may choose.  In order for our message to be perceived as valuable or beneficial to the listener (or reader) it's imperative that we make our message:
a. Memorable
b. Relevant
c.  Interesting
d. Different
e. Succinct
By paying attention to these five elements of a message, the speaker helps individuals determine if they want to select "this way" or "that way" or some type of blended approach.  The idea is for your audience to feel that by listening to you and your message they are motivated to take action and try out something unique as opposed to keeping everything the same or unchanged. (As we know, that can be boring.)
By following these guidelines you can assist people who may feel stuck or in a rut to now anticipate new opportunities.  Most individuals view this in a positive light and it strikes them as hopeful.  Of course, we can't influence what changes people will make or when they will make them.  However, knowing that we presented a message that resonated with people and gave them something to think about is an excellent start.  The possibilities are infinite.
Starting today let's make it our goal to help others decide if they prefer this way or that way.  You can get your listeners to take action when you focus on your message and how it's delivered.  Want to discuss this concept further?  Feel free to call (518) 664-6004 or email dale@profitablespeech.com 
Can't wait to hear from you and assist you in developing options=opportunities.