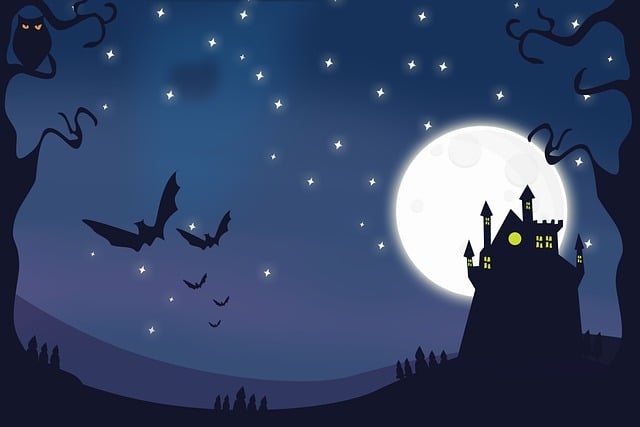 [Image by purwaka seta of Pixaby]
Are you haunted by scary thoughts about your public speaking skills? If so, you're definitely not alone or unusual.  Good news is that there are techniques to manage your fears, so you don't have blood-curdling experiences.  Here goes:
Ghost of Time:  My recommendation is that you know your allotted time frame when you accept a speaking engagement.  Whatever that allocation is, prepare to speak for a lesser amount of time.  Let's pretend that you're asked to speak for 60 minutes or 1 hour.  That's pretty typical.  Prepare to speak for approximately 45 minutes.  This is not the time to do a "data dump" and tell your listeners all that you know about a topic.  Know that less is more. You also don't want to increase your speed so that you cram everything in. That will significantly dilute your impact.  Of course, you'll want to rehearse your timing multiple times to ensure you're staying within the timeframe you were given.
Goblin of Interaction:  My recommendation is that you interact with your listeners vs. lecture to them.  Most people do not want to be spoken at or spoken to.  They prefer opportunities to apply what they're learning and to ask questions or make comments. You'll want to estimate the time required for these interactions as that will be essential to stay on track with the first point in this post. Design your interactions so they can be cut if needed and assigned as practice, in the event some of them take longer than expected.
Spooky Technology: Be aware that anything that can go wrong with your use of technology will go wrong.  This includes PowerPoint, microphones, amplification, video samples, etc.  This is the reason that I strongly recommend testing everything well in advance of your presentation to ensure it's in working order.  As important is to have a well-designed contingency plan should technology go awry. Yes, it's disappointing when technology fails but it's reality for speakers.  This is not the time to have your listeners wait while you or an IT person attempts to rectify it.  The show must go on.  This is where use of guided note taking (handout) can be immensely beneficial.  It's also a point where you may want to have a brief break to be able to seamlessly switch gears, if needed.
The key to any public speaking is preparation and anticipating the what ifs.  When you have a plan, this will greatly reduce ghosts, goblins, and spooky thoughts about public speaking. If you'd like to discuss particular needs or questions, please feel free to contact me at 518-664-6004 or dale@profitablespeech.com