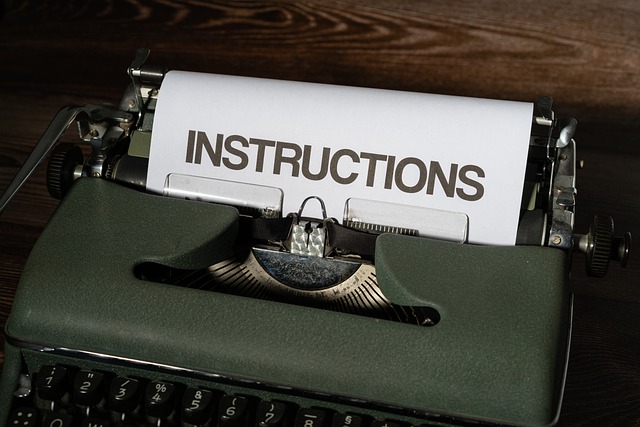 [Image by Marcus Winkler of Pixabay]
Who doesn't need instructions?  Some of us think we know it all, however when it comes to public speaking…we can always learn to improve how we communicate.
That's precisely why I created my Presentation Log.  It's a 3-page handout that I send to my clients who find this to be an invaluable self-assessment tool when it comes to their public speaking presentations.  When I designed it, I created three separate sections which are labeled as follows: content, delivery, and technique.  Each section has five to six elements, and the speaker asks "What did I do well?  What do I need to improve?"  The speaker then assigns a numerical rating for each of the elements, ranging from 1-5 or low to high. Additionally, there is ample room for the speaker to add pertinent notes, as warranted.
This tool is designed to be used in 48 hours (or less) of each presentation.  The reason being that it is optimal for the presentation to still be fresh in the mind of the speaker.  We all know that our presentations tend to fade from our memory as soon as they're delivered.  This short time frame helps ensure a more accurate portrayal of what actually occurred.
The goal of this presentation log is for speakers to review it prior to their next presentation.  In this manner, it serves as an instructional guide of what to replicate and what to modify. The speaker can add to this log as appropriate and when an element doesn't apply, the speaker indicates not applicable.  It's relatively simple to use.  Probably the toughest part is making sure the Presentation Log is completed in a timely manner as well as referencing it prior to an upcoming presentation or speech.
Initially, it's somewhat challenging to be candid about your performance however this will improve over time. This tool has been provided to a diverse range of clients who represent various industries (i.e., law, finance, sales, engineering, pharmacy) and each of my clients use this document regularly and note the presentation improvements they've made.
If this sounds like an idea that interests you, please contact me at 518-664-6004 or email me at dale@profitablespeech.com and we can discuss this further.   I'm always happy to assist you and/or your team so please let me know your business communication needs.