DOWNLOAD NOW!
Profitable Speech On The Go!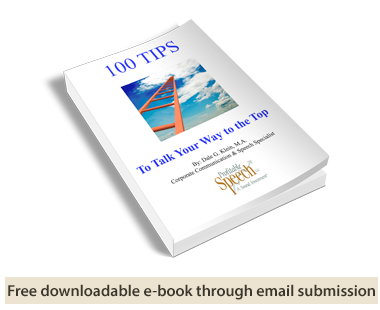 WHAT IF YOU COULD CONSISTENTLY MAKE A POSITIVE FIRST IMPRESSION IN YOUR DAILY INTERACTIONS?
You can with this invaluable booklet filled with Dale Klein's guidance.
"100 Tips to Talk Your way to the Top"
What is it? 
Imagine having a convenient reference tool to quickly grab pointers that help you succeed in your daily interactions. 100 Tips to Talk Your Way to the Top is organized by the following topics:
Listening 
Networking
Elevator Pitch
Remembering Names
Presentations
Meetings
Feedback
Voicemail
Interviewing 
You'll also receive suggestions on how to optimally use your booklet as well as how to create a personalized action plan!
What's my investment?
This powerful booklet is yours as a complimentary download!