LISTEN NOW!
Profitable Speech On The Go!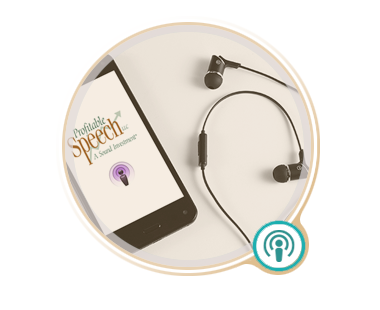 Data Dump
September 2023
DO YOU WANT TO BECOME A BETTER COMMUNICATOR?
Here's a great place to start. Monthly on this page, Dale Klein posts a high-energy podcast on a vital aspect of communication—from voice mail to vocal hygiene, effective networking to productive interviewing, interactive meetings as well as engaging presentations.
Click below to hear this month's podcast titled--Data Dump.
As a Corporate Communication & Speech Specialist and the founder/owner of Profitable Speech since 1994, I know that our message must stand out. Many professionals believe that their mission when they present is to say as much as possible about their topic.  In my professional opinion, that's not quite accurate.
Here's why I say that.  Most, if not all of you, are familiar with the term data dump.  As speakers, we run the risk of telling more information than our listeners need.  The reason for that is we tend to think others will view the fact that we know a great deal about our topic as positive.  However, we may be wrong in that assumption.  After all, our listeners have limited attention spans.  They want to hear and see what they need as opposed to what you know about a subject.  When we tell more than is warranted, that's referred to as a data dump.  In this podcast episode, I provide a detailed explanation of data dump as well as guidance on slide decks where you may find you're visually including too much information (data dump).
As part of my Corporate Communication Coaching practice, I've assisted many clients to sound their best in several diverse aspects of their day-to-day business communication. Awareness is pivotal to being a dynamic public speaker so the greater your insight, the more you'll succeed in business.
When you're ready to improve your presentation skills, please consider my professional expertise. When you listen to this podcast, you'll appreciate why I say this.
You won't be disappointed.
If you'd like any business communication guidance, please know you're welcome to contact me and we'll quickly get the answers you need.  I'm confident this will be meaningful to you and to your employees or team.
                                If this seems overwhelming, you can change all that by working with a qualified business communication professional.
It's helpful to have this beneficial information when you need it.
Whether you need this skill now or in the future, it's an invaluable tool irrespective of your role.
Listen to this podcast now so you can take the necessary action!
---