LISTEN NOW!
Profitable Speech On The Go!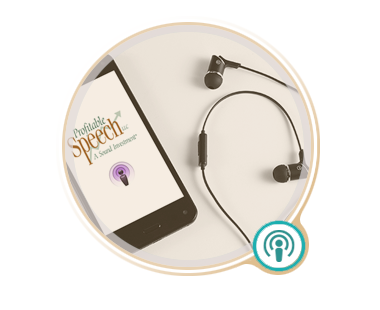 Forget Memorization
October 2022
DO YOU WANT TO BECOME A BETTER COMMUNICATOR?
Here's a great place to start. Every month on this page, Dale Klein posts a high-energy podcast on an essential aspect of communication—from voice mail to vocal hygiene, effective networking to productive interviewing, interactive meetings as well as engaging presentations.
Click below to hear this month's podcast titled Forget Memorization.
As a Corporate Communication & Speech Specialist and the founder/owner of Profitable Speech since 1994, I understand why individuals often ask about memorization.  Therefore, I'd like to share that with you in this podcast.
Chances are that if you speak publicly, you may be wondering if memorization is the silver bullet.  When a client asks about whether or not memorization is advised, my response is to forget memorization.  There are only two exceptions where memorization makes sense and I'll discuss that in this podcast. As with any speaking opportunity you want to do it right so I'm offering my suggestions for what has helped my clients.
When you're ready to make a change and improve your presentation skills, please consider my professional guidance. When you listen to this month's podcast, you'll appreciate why I say this.
If you'd like any pointers, please know you're welcome to contact me so we get the answers you need.  I'm confident this will be meaningful to you and your staff.
                                If this seems daunting, you can change all that in a safe manner by working with a qualified business communication professional.
It's helpful to have this beneficial information right at your fingertips.
Whether you need this skill now or in the upcoming weeks, it's an invaluable tool no matter what your role is.
Listen to this podcast now so you can take action!
---